Saint Bridget of Sweden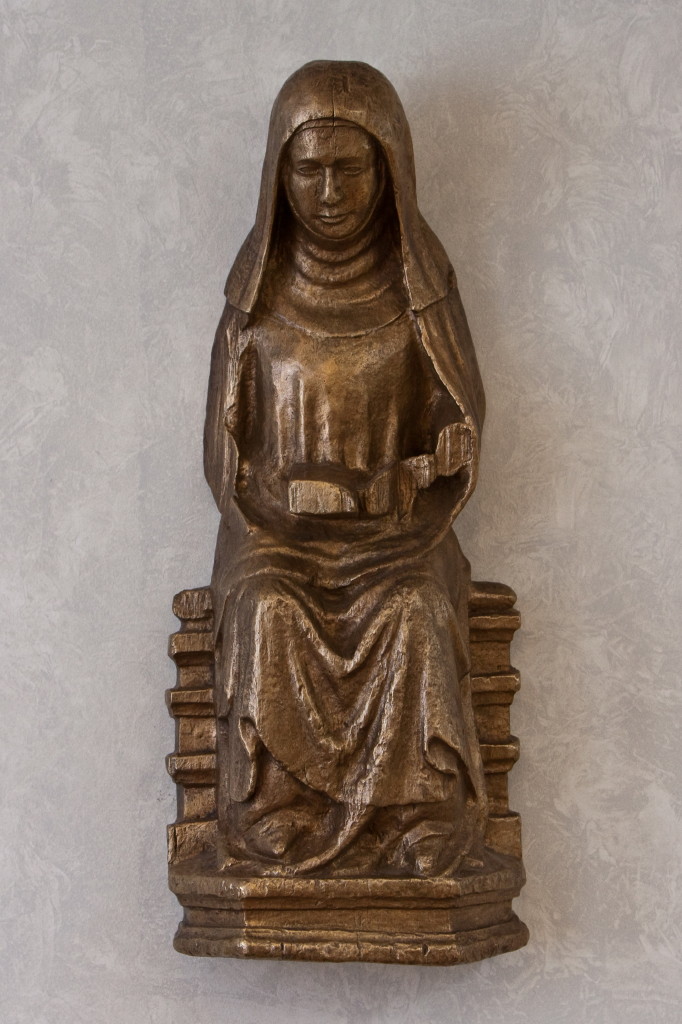 Birgitta is best known for her revelations and her own strict life of prayer and asceticism, as well as for the monastic order she founded.

In this way she can be a role model for religious life for all Christians. Because of her great love for Christ and the Church, she was a fearless guide for ecclesiastical and secular leaders of her time. She was generous to the poor and suffering, and as a strong mother, she can be a model for all of today's women.

On 1 October 1999 Pope John Paul II proclaimed St Birgitta a patron saint of Europe.
Saint Elisabeth Hesselblad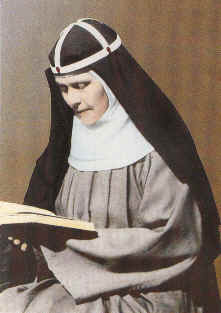 In the last century Mother Elisabeth founded once again the Bridgettines. She is called "the other Birgitta", because of her efforts to make St Birgitta better known, and for having restored the Order. In this way, St Birgitta's legacy continues in our time. Mother Elizabeth died in 1957 in Rome, and it was in Rome that she was beatified by Pope John Paul II on 9 April 2000.
"Moses raised up his arms in prayer when the people of Israel where at war, but our spiritual arms must always be upraised, not only during our common times of prayer, or when we are on our knees, but wherever we are, wherever we are called to be."
Mother Elisabeth, December 1950.
Declared saint 5. June 2016 by Pope Francis.
Saint Richard Reynolds
Bridgettine Monk of Syo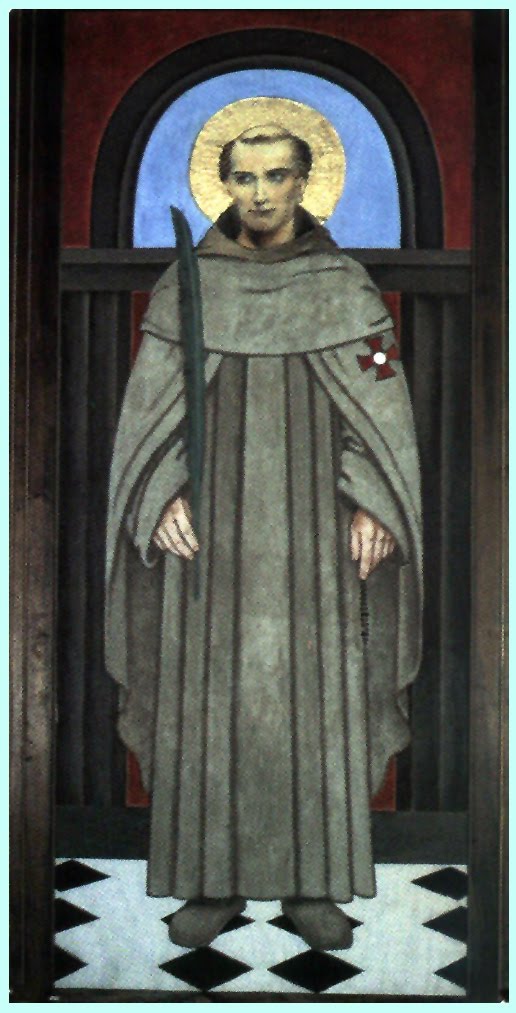 n Abbey, martyred at Tyburn in defence of the Catholic Faith, May 4th 1535.
Canonised by Pope Paul VI, October 25th 1970.
Richard Reynolds was born about 1487. The place of his birth is uncertain, but he was probably connected with the Reynolds family of Pinhoe, Devon.
He was elected a Fellow of Corpus Christie College, Cambridge in 1510, became a Bachelor of Divinity in 1513 and was appointed University preacher. On June 13th of the same year he made his profession as a Bridgettine monk at Syon Abbey, Isleworth.
His contemporaries describe him as one of the foremost preachers and scholars of his day, and a man of angelic countenance and angelic life. He was a personal friend of SS. John Fisher and Thomas More.
Arrested and required to take the Oath of the King's Supremacy in spritual matters, he refused, and was martyred with three Carthusian Priors and John Hale, the Vicar of Isleworth on May 4th 1535.
St. Richard was the last of these five heroic protomartyrs of the Reformation to mount the scaffold.
As he watched the brutal and gruesome sentence carried out on his companions, he encouraged them with the promise of a "happy banquet and supper in heaven for their sharp breakfast on earth."

Let us pray:
God, in your goodness, you have granted to St. Richard a place among the illustrious martyrs of the Apostolic See; grant to us, through his example and intercession, that we may loyally live and holily die in faithful obedience to the same Holy See. Through Christ Our Lord. Amen.
Blessed sister Marie Francoise Lacroix (1753-1794) and
blessed sister Anne-Marie Erraux (1762-1794)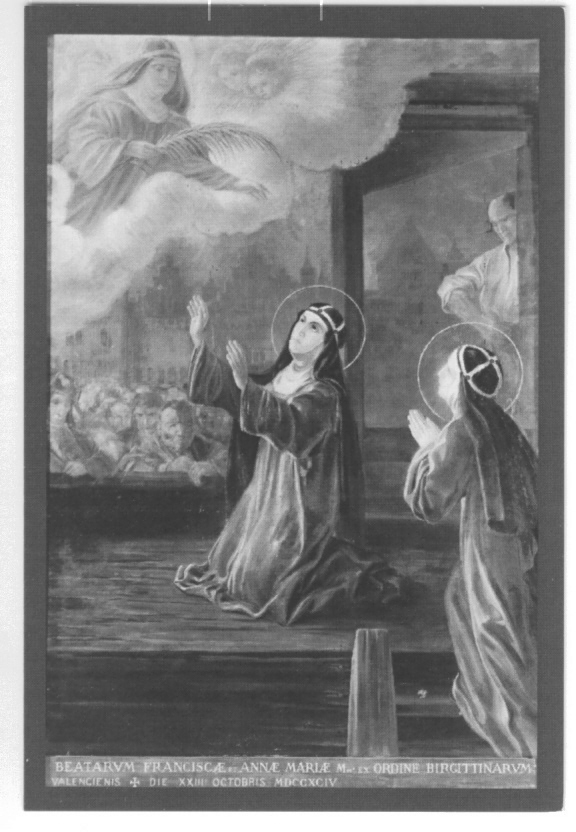 BESTARUM ANNÆ MARIÆ ET MARIÆ FRANCISCÆ
VIRGINUM ET MARTYRUM
Both belonged to the monastery in Valenciennes, France, and experienced the fight against the church and monasteries during the French Revolution. They experienced that their convent was closed. Both returned to their families determined as soon as possible to resume monastic life. The two showed a great love and dedication for the vocation they had chosen.

The two young Bridgettine Sisters gradually realized that it was impossible to return to their monastery. Therefore they turned to Ursulines in Valencienne and asked for affiliation with their community. Monastic life had become their second nature they could not live without.

Also the ursulines had to move from their monastery, but they succeeded in restoring a monastery in Mons. The two Bridgettine sisters joined them as guests. But in 1794 was also this monastery confiscated and turned into prison. The sisters were the first prisoners, imprisoned because of their religious life.

The sisters soon realized that their devotion to God as they promised at the vows, soon would be  fulfilled in reality. Sr. Anne-Marie writes to her brother:
"I can not express how happy I shall give my blood for the faith ... and that I will soon leave this world's prison and move to the eternal dwellings. May God grant me the grace that I can keep out to the last, (that I need,) and preserve the love of Christ. May you all, you and my dear parents, remain united in one heart and one mind. With God's mercy, I hope to see you all again in heaven. I invoke upon you all the blessings of heaven. Your sister Anne-Marie."

The two Bridgettine sisters were led to the guillotine on 23. October 1794. In the morning they were allowed to receive Holy Communion. Then they were brought to the place of execution in small wagons. They were not allowed to wear their habit. On the way to the guillotine, they sang the Te Deum and the Litany of Loreto (Litany to the Holy Virgin Mary). They did what they could to encourage each other. The sisters were not people unfamiliar with anxiety and fear. Sr. Anne-Marie said on their last travel:
"May God give me perseverance to the last, because I have great need for it."

Sr. Marie Francoise Lacroix and Sr. Anne-Marie Erraux were beatified by Pope Benedict XV 13th June 1920.
From Proprium liturgiæ horarum
Servant of God mother M. Riccarda Beauchamp Hambrough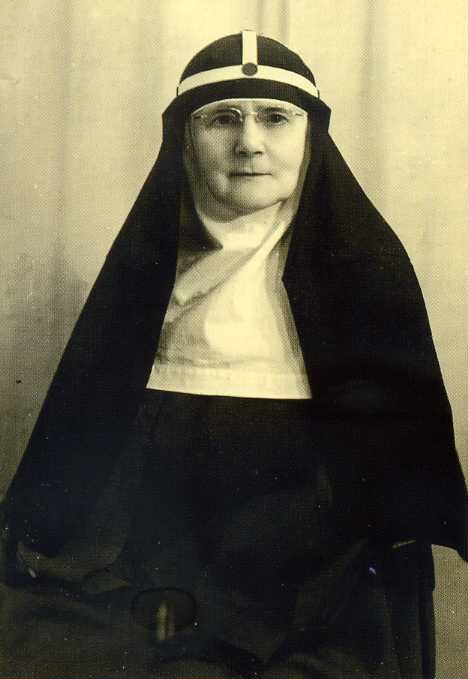 Mother M. Riccarda Beauchamp Hambrough was born in London on the 10th September 1887. She completed her first studies at the Sisters of the Sacred Heart Convent in England, where she also attended courses in singing and music. After coming to know of the experience of Blessed Elizabeth through Fr. Benedict Williamson, in 1914 she transferred herself definitely to Rome to be close to Blessed Elizabeth, becoming her disciple and faithful companion in her movements in the city of Rome and abroad. In 1918 she made her Final Religious Profession in the House of Via Corsica. She took up various assignments of responsibility and in 1923 we find her in Stockholm for the inauguration of the first Bridgettine Foundation in Sweden since the Protestant Reformation. Returning to Rome in 1924, she moved from Via delle Isole to Piazza Farnese in 1931 where she remained till her death.
From 1931 to 1966, the Servant of God, in silence and constant attention to the Mother, was along with the latter, the true protagonist of the life and growth of the new Bridgettine family.
In 1935 she was back in Sweden for the opening of the House in Vadstena. She also accompanied Mother Elizabeth when the Mother presented the 1940 Constitutions to Pope Pius XII for approval and renewed the petition that the new Foundation be named Order of the Most Holy Saviour. On the 24th April 1957 Mother Riccarda witnessed the passing away of Blessed Elizabeth and a year later, on the 3rd May 1958, she was elected the first Abbess General after the Foundress, a position she held until 1964. She died in the House of Piazza Farnese on the 26th June 1966 in odour of sanctity.
A woman of prayer, with lovable traits and behaviour, her life was a constant meditation on the mystery of God, the only light that illuminated the silence of her prayers and the endless hours of Adoration of the Blessed Sacrament.  She willingly accepted pain and suffering. She ruled the Order in difficult times, always with great kindness and attention, standing out as a pious Mistress of the novices, a vigilant Superior and a thoughtful Sister. As Mother General she was able to incorporate the prophecy of the Blessed Elizabeth with the signs of renewal of Vatican II, which was concluded just a year before her death.
Servant of God mother M. Catherine Flanagan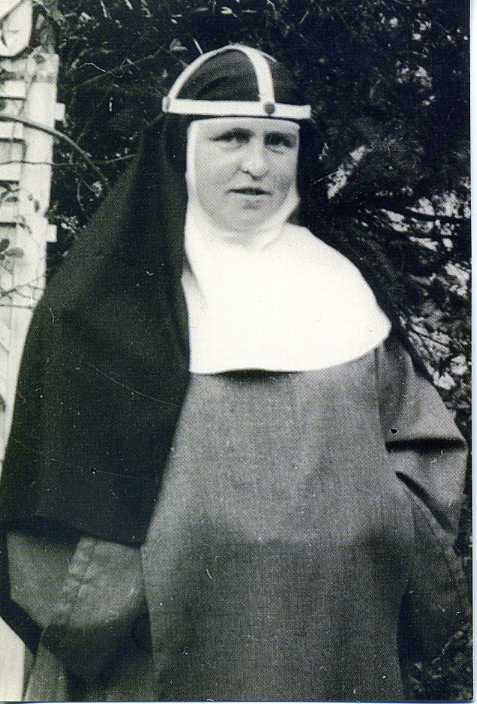 Mother M. Catherine Flanagan was born in London on 17th July 1892 to Irish parents, in a rather austere but affectionately warm family atmosphere. From childhood she was brought up in close contact with the sacraments and the liturgy, which she deeply loved.
In September 1911, directed by Fr. Benedict Williamson, pastor of the Parish of St. Gregory in London, she arrived at the house of St. Bridget in Piazza Farnese to follow the call of God and be a member of the first Bridgettine community in Rome. Between 1913 and 1915 she completed the first stage of her spiritual formation and made her temporary Profession. She remained there until 1927 when she was sent to Sweden for a year. Later we find her as Mother Superior in Lugano (1928), England (1931), and Vadstena (1935). In 1939 she moved to Djursholm where she was hit by an incurable disease. Consequently she was recovered in a Catholic nursing home in Stockholm, where she spent the last months of his life in great suffering, praying for Sweden and edifying all by her example. She died on 19th March 1941 with clear signs of predestination and in loving compliance with the will of the Lord. On 22nd March 1941 her corpse was transferred in the ancient cemetery of Vadstena where it still rests to this day.
Eldest daughter of the Blessed Mother Elizabeth, her life was characterised by her total availability and sincere fidelity to God's Providence that, in the last period of her life, signed her with the cross.
Servant of God sister M. Maddalena Moccia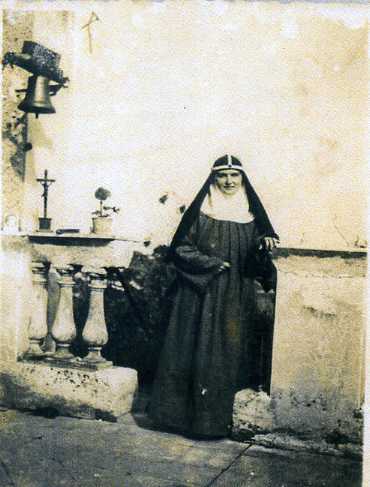 Sister M. Maddalena Moccia was born in Naples on 1st August 1898 of wealthy parents, which unfortunately cared very little about the religious education of their daughters. In 1913 she entered the College of the Ursuline Sisters in Rome in Via Nomentana: there she so strongly deepened the experience of her faith that she even matured the idea of embracing the religious life.
What she wrote in November 1915, after the spiritual retreat at the Ursulines' in Rome, is very significant: "Before entering this Holy House of God in the company of these holy and generous brides of Christ, I had never imagined what a retreat could be. Now, for two times have I experienced what a retreat could be. What a delight, what a joy! Never in the world had I heard and met my friend Jesus as the Ursulines now have made Him known to me. Never had I worshiped and loved Him as I now do spontaneously, without any need of encouragement. I often hear His voice, and He is prompt to take possession of my soul through his grace".
She entered the Bridgettine Community in Via delle Isole 34 in Rome, for which she felt greatly attracted. Here she was accepted as a postulant on 29th December 1920, taking the name of  Sister M. Maddalena of Jesus Crucified. On the 23rd July 1921 she took the religious habit, but in September of that same year, there appeared the first symptoms of a disease that would bring her to her death: pulmonary tuberculosis! On 20th February 1922 she took the perpetual vows, after only seven months in the novitiate, and on 20th April 1922 she passed away in Rome in odour of sanctity. She had said to the Blessed Mother Elizabeth: "I will be your Angel in heaven".