Details

Category: Birgittasøstrene
On July 23, we celebrate the Feast of Holy Birgitta

We think of her life. We see that she lived her life like other people.
By being human, she enriched her family and society with her charity. She taught her children to care for the sick.

In today's society, we need people who can be present. It can be a mother who gives food to her children and who is not as concerned with mobile or television. It is nice to see a 6 year old child helping her blind father and her little siblings. We see in everyday life how many good actions in different ways can enrich our society and ourselves.



Holy Mother Birgitta, help us so that we can help others with what we can and give our time to those who need it.

Holy Mother Birgitta, pray for us!
Holy Olav, pray for us!


 
---
Welcome to the Bridgettine Convent

 The Bridgettine Convent is open for all that want to stay in our guesthouse.
Details

Category: Birgittasøstrene
Here I am to do your will


In the month of August, I would like to share with you the vocation of Our Lord, and that we voluntarily accept His request.

Then we follow Christ, and all who follow Christ are given life and find purpose and meaning in life. Finally, I can say:
"Here I am to do your will, God." That is, I love the Lord my God with all my heart and all my soul, with all my strength; and likewise I love my neighbor as myself.

I dedicate my life to Christ and our neighbor. This will be my way through life.

When I think of my vocation, I think of when I was young, at the moment when God called me and I answered: "Yes!" to God.

Often we think of vocations as something individual, but it is not. We go the same way together. We are saved together and we become saints together.

A priest and a sister who has dedicated their soul to God, looks with the eyes and heart of Jesus to others because our lives are mirrors of Christ's life.

We humans also make mistakes in our lives.
As Mother Elisabeth said, "Trial is the way to salvation".

 
---
Welcome to the Bridgettine Convent!

The sisters participated in this year's Olsok celebration in memory of the Norwegian patron saint, Saint Olav.

The photos are taken of the procession before mass at Stiklestad, mass in the old church at Åre (Sweden) and procession after pontifical mass in the Nidaros Cathedral, Trondheim.
The Bridgettine Convent is open for all that want to stay in our guesthouse.
Details

Category: Birgittasøstrene
Mother Elisabeth with the first sisters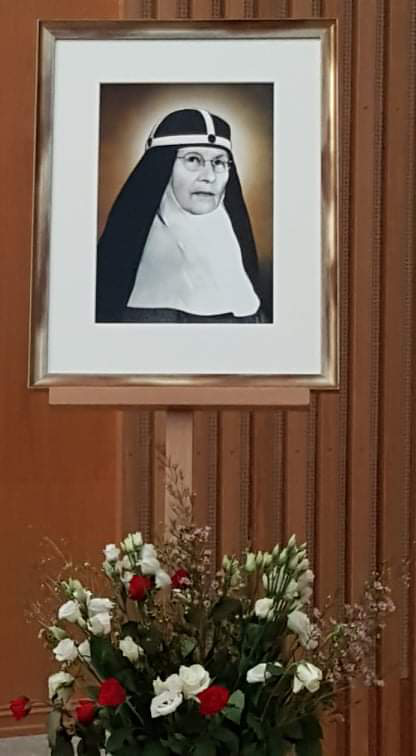 It is the first community that left the traces of life, and has taught us to follow them.

We see and think of the first community, September 11, 1911.
I would like to describe these paths of good will! It was Mother Elisabeth and the first four girls from England who left the strong mark. What is most important to me, is God's great love that does good things to people. We sisters take care of this with a warm heart.

The tracks may be different, but the goal is the same. When we have happiness and joy in monastic life, then it becomes beautiful as in Mother Elisabeth's time.
I want to thank God for watching over us. It was Pope Pius X who helped and supported Mother Elisabeth. He died 21.08.1914.
Thank you so much for all your good help and prayers!
I want to share a thought from M. Elisabeth.

Stop for a while, say Mater purissima:
May our Heavenly Mother purify our thoughts,
our hearts and our bodies.
---
Celebration of mass - registration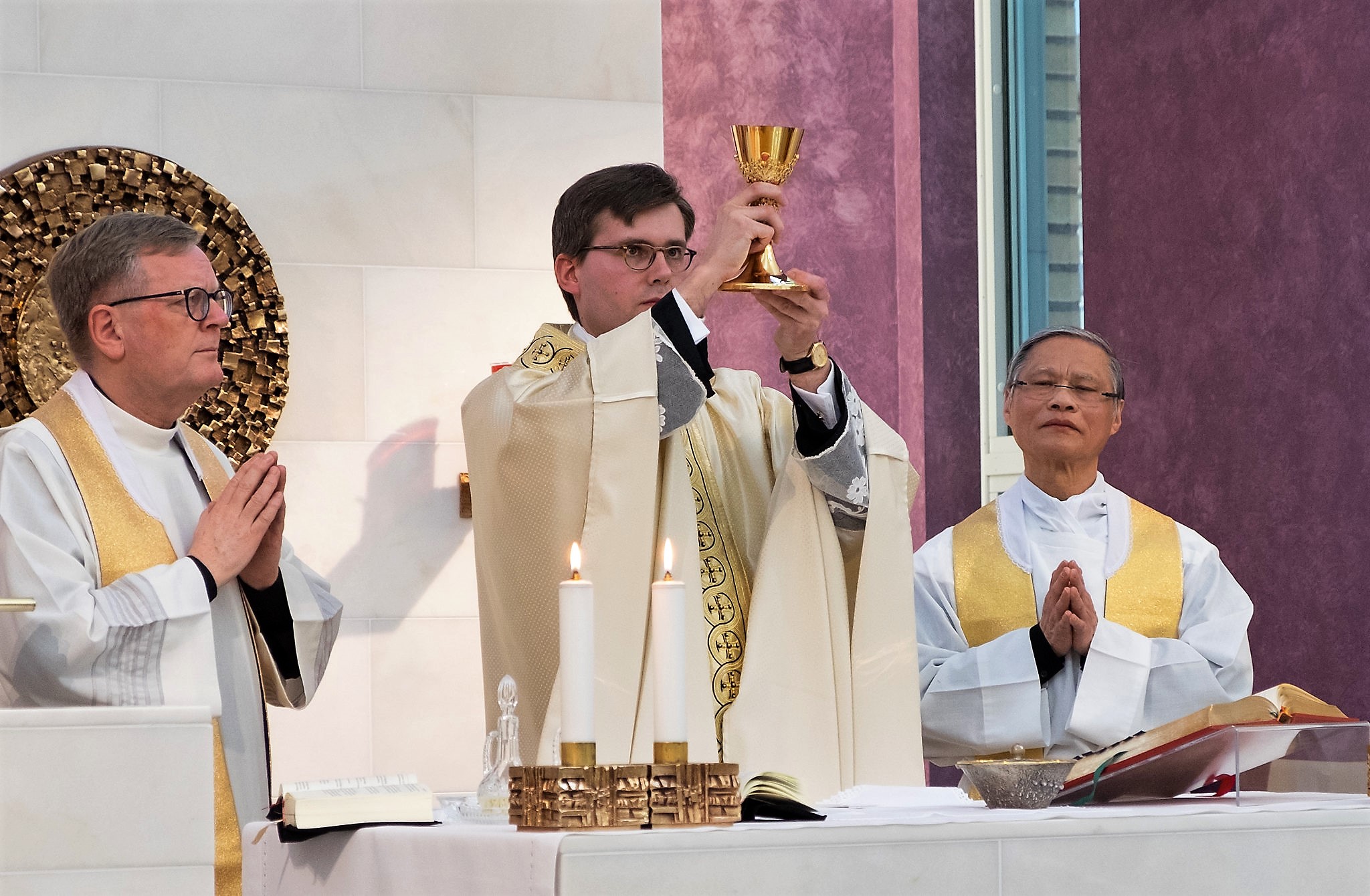 Changes in the regulations for the covid-19 pandemy from 9.3.2021:
Up to 20 faithful may now join for mass. Visitors have to be registrated for possible infection tracing.
Please register by phone to Sr. Carmelita,  967 22 691, with name, phone and number of visitors. It is important to do this in due time to get  a seat.

---
Welcome to The Bridgettine Convent!

The Bridgettine Convent is open for visitors to stay in the guest house.

Details

Category: Birgittasøstrene
We live in God's grace


Mother Elisabeth has taught us to live in God's grace.
She said, "Never let the sacred flame go down in your heart."
By practicing the sacred virtues you will make it burn more and more clearly, and you will make it work with the grace of God in you.

The virtues are of great help in making us well as human beings, so that we can give the best of ourselves.

When I think of the divine virtues, I think of faith, hope, and love.

I think we nurture the virtues at the moments when we need it most in our lives.
I could describe some examples, but I let you find the flame that glows in your life, yourself.


r
---
Welcome to the Bridgettine Convent!
 The Bridgettine Convent is open for all that want to stay in our guesthouse.
Details

Category: Birgittasøstrene
Korsveien er vår vei til frelsen
Fastetiden er en nådens tid fordi vi reflekterer over vårt liv. I denne fastetiden vil jeg fokusere mine tanker og vie min sjel til korsveien, men først kjenne at vi puster og er mennesker. Vi faller ned en gang, en gang til, kanskje mange ganger. Det blir sår og merker på vår kropp. Derfor må vi tilgi hverandre, og  ikke la sårene bli større og større. Vi renser oss med skriftemål og gode gjerninger, men ikke minst med å bygge vårt fellesskap, så fort som mulig.
Med Birgittas ord kan vi si:
"Jeg kommer til deg, som sårede kommer til legen. Herre, gi mitt hjerte ro. Etter at jeg har tilgitt og andre har tilgitt meg, blir det stor glede og fred!"
I Paulus' brev til filipperne står det:
Han var i Guds skikkelse og så det ikke som et rov å være Gud lik,

men ga avkall på sitt eget, tok på seg tjenerskikkelse og ble mennesker lik.

Da han sto fram som menneske, fornedret han seg selv og ble lydig til døden, ja, døden på korset.

Derfor har også Gud opphøyd ham til det høyeste og gitt ham navnet over alle navn.

I Jesu navn skal derfor hvert kne bøye seg, i himmelen, på jorden og under jorden,

og hver tunge skal bekjenne at Jesus Kristus er Herre, til Gud Faders ære!
                                                Fil 2,6-11

Vi ber til Hellige Birgitta:

Å strålende hellige Birgitta, med tillit retter vi vår oppfordring til deg om å få fra Gud en mer aktiv tro, en mer trofast kjærlighet slik at vi elsker den korsfestede Kristus over alt annet. Gjennom din forbønn, å hellige Birgitta, måtte Gud gi oss en mer perfekt kunnskap om vår forløsers kors og om hans velsignede lidelser, for å hjelpe og støtte oss til å være modige i våre nåværende livs engstelser og lidelser.
Amen.
---
Messetider i påsken
Palmesøndag 24.3.13
Messe kl 11.00
Skjærtorsdag 28.3.13
Messe kl 17.00
Langfredag 29.3.13
Korsvei kl 9.00
Feiring av Jesu lidelseshistorie kl 17.00
Lørdag 30.3.13
Påskevigilie kl 22.00
Første påskedag 31.3.13
Messe kl 11.00
Andre påskedag 1.4.13
Messe kl 11.00
Alle er hjertelig velkomne til å delta i påskefeiringen!


---
Velkommen til Birgittaklosteret!
I fjor i desember fikk søstrene prøve hvordan det er å gå på ski.
Kilkk på bildet for å se et bilde-album fra skituren.
Birgittaklosteret er åpent for besøkende som ønsker å bo i gjestehuset.